Dear Filmmakers,
I'm pleased to contact you on behalf of the The Festival of Unknowns. We are interested in featuring your short films at our international festival of self-produced short films, organized by students at the University of Paris-Denis Diderot, from April 15-18, 2010.
The deadline has been set to Thursday, 1st of April
To insure fairness to all participants, all short films must:
- last less than 25 minutes.
- be subtitled in (at least) English if the original is in a language other than French.
Please send your films to the following address (in DVD format):
Association Cinesept,
Université Paris Diderot Paris 7,
UFR LAC, case 7010,
16 rue Marguerite Duras,
75205 Paris Cedex France
Films can also be submitted via a downloadable version
, with a maximum size of 4 GB (please refer to our blog or contact us for more information).
The films will be viewed by a selection committee in order to select the best films for the festival. It is essential that the candidate holds all rights to distribute the film (music and images).
If your film is selected by our committee, a form certifying the candidates right to distribute the film will need to be signed.
Here is our e-mail address to contact the members of our team:
inconnufestival@gmail.com
and our
web site
:
http://inconnufestival.over-blog.com
We look forward to hearing from you in the near future.
Yours faithfully
the « Inconnu Festival » team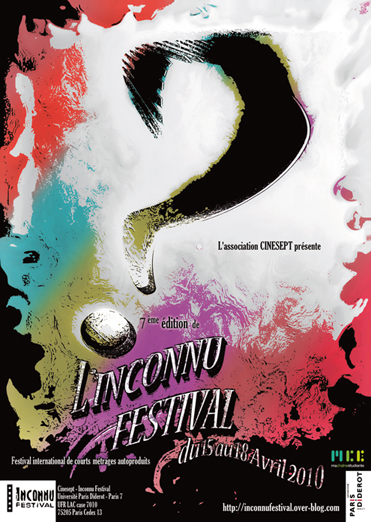 Last edited: